With everything that's going on in the world, it's completely natural to feel uneasy about your situation. Whether you're questioning your job security, worrying about the health of your loved ones, or just anxious to be relieved from self-isolation, there are several strategies you can use to calm your nerves and find some clarity. In this blog, you will know 5 Healthy Ways to Deal With Stress.
In this article, we'll be sharing five healthy ways you can deal with stress in the age of the coronavirus, and beyond.
1. Get some exercise
Exercise is not only essential to preserving your physical health, but it's also one of the best ways you can improve your mental health, too. When you work out, your body releases mood-boosting chemicals that leave you feeling perfectly balanced between relaxed and energized. What's more, exercise is also a great way to approach sleep issues.
Since many people are under stay at home orders in the U.S. and abroad, we figured we'd share our favorite indoor workouts that'll help you sweat off the stress:
Yoga

YouTube fitness classes — check out these popular vloggers:

OFFICIALTHENX

Kayla Itsines

Nikki Blackketter

The Body Coach

Jeff Nippard

Hula hooping

Jumping rope

Stationary bikes
2. Try natural stress-relievers
Wellness is all about finding a holistic approach that works for you. By exercising, eating well, and integrating other healthy practices into your routine, you can find a balance that brings you peace of mind, body, and soul. And thanks to the fast progression of the wellness world, there are tons of natural stress-relieving options out there—just check out these products:
CBDfx capsules

: Daily 25mg CBD pills that can be used to relieve stress, boost mood, and reduce physical pain.

doTERRA essential oils: High-quality essential oils that can be diffused to alleviate symptoms of stress and boost mood. We recommend lavender, lemon, and tea tree for stress relief.

Celestial Seasonings herbal tea

: Flavors such as chamomile, lemon ginger, and lemon lavender don't contain caffeine and include natural ingredients that are believed to naturally soothe stress.
3. Find peace through meditation
The practice of meditation has been used for centuries as a religious practice and method to relieve stress. What makes this stress management tool even more appealing, it's really easy to integrate into your daily routine, whether you're at home or on-the-go. With guided meditation apps like Headspace, you can easily access meditation techniques, breathing exercises, and more.
Start with just a few minutes per day and you'll be able to work yourself up to longer sessions in no time!
Not into traditional meditation? No problem! You can reap the benefits by doing other meditative practices such as:
Journaling

Reading

Sketching

Stretching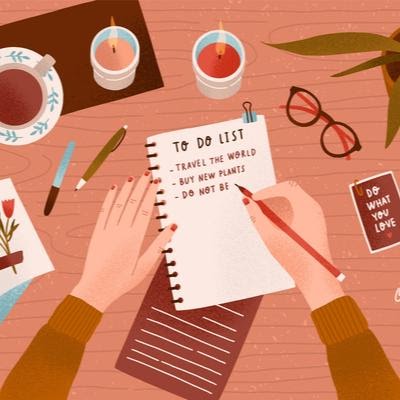 4. Make daily tasks more manageable
A big cause of chronic stress is just figuring out how to manage all the things on your to-do list. Oftentimes things like filing taxes or catching up with work seem more daunting than they need to be. To make big tasks a breeze, consider these helpful strategies: 
Create a monthly calendar for each facet of your life, including personal, professional, and social. 

For big to-do's, break them down into smaller tasks that you can sprinkle throughout your schedule, rather than having to commit a whole Sunday to get the job done.

At work, use a project management tool like Asana or Monday to keep track of your tasks, progress, and deadlines.

Try your best to limit time-sucks like looking at your phone too much or

binge-watching

TV. Just by being aware of these tendencies can help you refocus on the tasks at hand.
5. Ask someone for help
Last but certainly not least, ask for help! We've all gone through times of stress and frankly, most of us are dealing with some level of stress at this current moment, so there's really no better time to reach out. There are plenty of people out there ready to lend a hand when you need it, including your family, friends, and colleagues!
And if you're looking for a higher caliber of counseling, consider online counseling options. There are tons of platforms to choose from, including BetterHelp and Talkspace.
Final notes
Stress certainly isn't an easy thing to deal with, but with these five tips, you'll be a few steps closer to a calmer, clearer you.