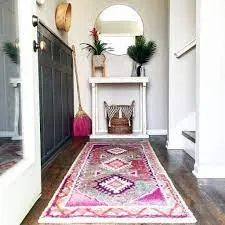 Are you looking to add a pop of color and sophistication to your home decor? Look no further than pink rugs! From soft blush tones to bold hot pinks, these versatile pieces can transform any room in your house. But how do you decorate with pink rugs without going overboard or clashing with existing decor? 
In this blog post, we'll explore the different types of pink rugs available, offer tips on how to incorporate them into your space, share some "pink rug recipes" for inspiration, and provide alternatives if pink isn't quite your style. So let's get started on creating a chic and stylish home with the power of pink!
The Different Types Of Pink Rugs
Pink rugs come in many shapes, sizes, and materials. The different shade of pink rugs can vary greatly from soft pastels to bold brights. Here are some popular types of pink rugs:
First up is the blush or light pink rug. This delicate hue adds a touch of femininity and elegance to any room. It pairs well with neutrals like white, gray, and beige.
For a bolder look, try a hot pink rug. This eye-catching color will make your space pop! Be sure to balance it out with neutral furniture and decor so as not to overwhelm the senses.
If you prefer something in between, consider a medium or dusty rose-colored rug. This muted tone has become increasingly popular in recent years for its ability to add warmth and sophistication without being too loud.
Materials also play a big role in the appearance and texture of pink rugs. Wool is a common choice for its durability and cozy feel underfoot while silk adds luxury but requires more delicate care.
Whether you're looking for something subtle or statement-making, there's sure to be a type of pink rug that fits your style!
How To Decorate With Pink Rugs
Pink rugs are the perfect addition to any room that needs a pop of color and warmth. But how do you decorate with pink rugs without making your space look too girly or overwhelming? Here are some tips on how to incorporate this trendy hue into your home decor.
First, consider the shade of pink. Soft blush tones are great for creating a romantic and feminine vibe in bedrooms, while brighter shades like fuchsia or magenta can energize living spaces or playrooms. For more sophisticated looks, opt for muted pinks like dusty rose or mauve.

When it comes to pairing pink rugs with other colors, neutral hues such as white, gray, and beige create a chic and modern contrast. You can also mix different shades of pink together for a monochromatic look that's both stylish and cozy.

To balance out the sweetness of pink, add some texture through materials like wood or leather. A natural jute rug layered underneath a fluffy pastel-pink shag rug will instantly make your space feel grounded yet playful.
Don't be afraid to experiment with patterns! Pink floral prints bring an instant touch of femininity while geometric designs offer a modern twist on this classic color choice.
With these tips in mind, decorating with pink rugs is easy-peasy-lemon-squeezy!
Pink Rug Styling Ideas
Pink Rug Recipes are a fun way to experiment with different color schemes and patterns in your home decor. Mixing various shades of pink can result in a unique and sophisticated look that will elevate any room. Here are some tips on creating the perfect pink rug recipe:
Start by

choosing a pink rug

as the base of your design. It can be solid or patterned, depending on your preference.

Next, mix different shades of pink throughout the room, using throw pillows, curtains, and other decorative accents.

To add depth to the space, incorporate contrasting colors such as black or white. This will create balance and prevent the room from looking too overwhelming.

For a more playful vibe, try mixing bright pinks with pastels for an unexpected pop of color.

Don't forget about texture! Adding elements like faux fur or shaggy rugs will make the space feel cozy and inviting.
Remember that there's no right or wrong way to create a Pink Rug Recipe – it's all about having fun and experimenting until you find what works best for you!
Alternatives To Pink Rugs
While pink rugs are a great way to add a pop of color and femininity to any room, they may not be everyone's cup of tea. Luckily, there are plenty of alternatives available for those who want something different.
One option is to go with a neutral rug in a textured or patterned design. This can still provide visual interest without being too bold or overwhelming. A beige shag rug or a cream-colored Persian-style rug could be perfect choices.

Another alternative is to opt for blue or green rugs, which can create a calming and refreshing atmosphere in the room. These colors also pair well with many other shades and patterns, making them versatile choices for any decor style.

If you're looking for something more daring, consider going with an animal print rug like zebra or leopard. These prints can bring personality and edge into the space while still maintaining elegance.

If you prefer simplicity but still want some dimension in your floor covering, try geometric patterns in black and white hues. This will add modernity without taking away from the rest of your decor elements.
There are many options when it comes to choosing an area rug that suits your aesthetic needs beyond just pink tones – so don't limit yourself!
Conclusion
Pink rugs are a versatile and stylish addition to any home decor. From the sweet innocence of pastel pinks to the sophisticated elegance of deeper shades, there is a shade of pink that can fit anyone's taste. Whether you choose to make it the centerpiece or just an accent piece in your room, a pink rug can add warmth and character to your space.
Remember that when decorating with pink rugs, it's essential to balance out the color with other elements in your room. Don't be afraid to experiment with different textures, patterns and colors until you find what works best for you.
So go ahead and try out some of these ideas for decorating with pink rugs! Let us know how it goes – we'd love to hear about your experiences in creating beautiful spaces using this lovely hue!