Do you often need to record screen actions or demo videos? Do you frequently need to record video tutorials or training videos? If so, then you definitely need a practical and easy-to-use screen recording software. Today, I want to introduce a fantastic screen recording software for Mac users – Omi Screen Recorder.You can download it from the App Store.
Omi Screen Recorder is a screen recording tool designed specifically for Mac users. Its biggest highlight is the ability to record audio along with the video.
In response to different usage scenarios, Omi Screen Recorder can also perform partial or full-screen recordings as required. You can choose window recording/full-screen recording/area recording/camera recording/sound recording.
4K 
The screen recording quality is also excellent. It also supports high definition recording such as 4K and 1080P, and the frame rate adjustment is very flexible, which can be adjusted according to your needs.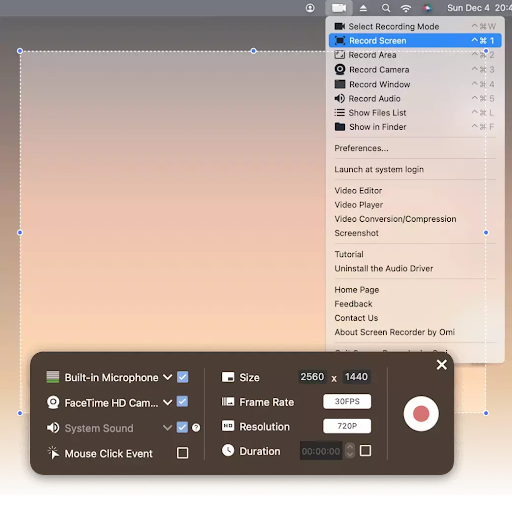 virtual background function
It also supports virtual background function, which means you can automatically cut out the background and replace it with a more suitable one while recording the video, making the video look more professional.
Powerful All-Around Screen Recording
Screen Recording with PiP Camera, support recording system sound and voice at the same time. Customize recording image size, resolution, frame rate, recording time. Much more powerful than the QuickTime Player recording on Mac.
Easy-To-Use Camera Recording
All operations are very simple and easy-to-use, and it supports almost all one-click operations. Even users without recording experience can quickly get started.
Overall, Omi Screen Recorder is a very practical screen recording software for Mac, which can meet various needs of users in the video recording process, especially when it comes to education, customer service, and demonstration, the effect is particularly significant. Its simple and easy-to-use high-definition recording and flexible frame rate adjustment functions make users more free, convenient and efficient while using the software.
If you need to record videos on a Mac, I recommend that you give Omi Screen Recorder a try. In actual use, you will continuously discover the practicality of its other functions.