Remodeling your kitchen can be an extensive and expensive project. Addition of amenities such as granite countertops or custom cabinetry can add even further expenses.
Remodeling a full kitchen typically involves taking down walls, moving gas lines and plumbing lines, rewiring electrical circuits, and hiring professional builders and designers to ensure a safe transformation. If this sounds daunting to you, consult professional build and design services, as this may ensure a safer transformation process.
Cabinets
Cabinets can make up as much as 40% of the overall costs associated with any kitchen remodel, so it is crucial that they meet both functional and stylistic requirements.
Changing cabinets can help update your space. When cabinets start coming loose from their walls or are in bad shape overall, it may be time for replacement. Damaged cabinets aren't just unattractive; they may even pose safety risks for you and reduce home value.
While mold damage to cabinets is manageable, replacing them entirely may be more effective in terms of health concerns and structural integrity. Excessive dampness could indicate that an ongoing leak has gone undetected for too long and needs repairing immediately.
Replacing cabinets may be more expensive than refacing them, but it provides greater customization to fit your style and functional requirements. Furthermore, replacing them enables you to add innovative storage systems as well as choose from an assortment of finishes for greater personalization.
Countertops
Countertops complete the look and functionality of any kitchen, acting as an important work surface. Achieving this requires being sturdy, durable, and easy to maintain within your budget constraints.
Laminate countertops offer the most cost-effective option available. Available in an assortment of styles and colors to complement your cabinets, these affordable countertops can also be customized with extras such as end caps, mitered corners, or rounded bullnose edges for an upscale touch. 
Stone countertops are an elegant and resilient choice that combines beauty with durability. Heat and scratch resistance make these surfaces ideal for kitchen use; however, their care requires considerable upkeep. 
Granite and marble are popular materials, while quartz surfacing offers an economical alternative with similar heat- and scratch-resistance characteristics as natural stones without sealing requirements or bacteria or stain resistance issues.
Alternatively, for a natural and warm aesthetic, wood countertops offer plenty of customization possibilities. Plus, their easy maintenance means just wiping away spills as soon as they occur and applying mineral oil regularly to hide scratches. 
Another natural choice would be soapstone, which boasts bacteria- and stain-resistance with gray tones from light to dark and subtle veining features.
Flooring
Your kitchen flooring can have an immediate, transformative effect. Simply replacing tiles can give the room a completely different appearance and feel, as well as play an integral role in budgetary decisions.
If working within a tight budget, you can still upgrade by opting for laminate or LVP; these materials tend to require less upkeep than natural wood floors and stone surfaces.
Replacing the backsplash in your kitchen can also enhance its aesthetic and is typically an easy DIY project. However, for complex installations requiring tile patterns or intricate backsplash designs, it may be best to hire professional help.
If your lower cabinets have sustained water damage or the condition of the subflooring is unclear, considering remodeling is wise. Remodels offer an ideal chance to bring your home up to code and increase safety. You can visit this site for tips on how to have a successful renovation.
Depending on the scale and scope of your renovation project, hiring a general contractor might make sense to facilitate its completion and reduce costs. However, if you prefer being the project manager yourself rather than outsourcing subcontractors altogether, then saving money by searching for and hiring individual subcontractors yourself might be possible as well.
Lighting
Lighting in a kitchen remodel is often underestimated; yet, it can make a huge impact in its look and feel. An inviting kitchen requires ambient, accent and task lighting; using different combinations will bring out its full potential.
Ambient lighting is essential to a successful renovation project, often consisting of recessed or wall-mounted fixtures to cover every part of your space.
Accent lighting adds light to specific fixtures in your kitchen that aren't covered by general illumination, usually through decorative fixtures like dramatic pendants or fluid chandeliers. Also, consider lighting cabinet doors to highlight dishes or other items you want on display.
Task lighting is essential in areas that involve food preparation. By having enough task lighting available, your meal can be prepared quickly and safely. You can click the link: https://www.lrc.rpi.edu/ to learn more. 
Install a few large lanterns on your ceiling to give your kitchen some personality and charm. An eye-catching piece will catch guests' eyes when they enter for dinner!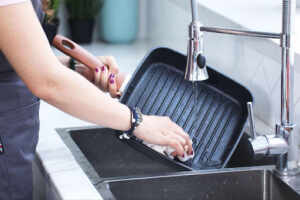 Faucets
Popular kitchen faucets typically provide you with features to make life in the kitchen easier, such as multiple spray settings, convenient docking, rust-resistant finishes, and a choice of handle designs. 
Some models also come equipped with extras like soap dispensers or pull-out sprayers, and for those who value saving time, some faucets come equipped with motion sensors that activate water flow without touching their handles – an especially helpful feature in busy kitchen environments or for those wanting to avoid spreading germs.
Popular kitchen faucets are usually constructed of metal materials such as brass or stainless steel, featuring sleek, minimalist designs that blend in well with most kitchen styles. Available finishes may include polished chrome, matte black, and brushed nickel; many feature tall resting heights to easily accommodate sink corners.
A kitchen sink is an essential part of food preparation. Having a modern stainless steel kitchen faucet for a sink with a single hole is a sleek and stylish way to complete your kitchen's new look. Stainless steel will ensure your sink will be easy to maintain.
Some models feature an efficient Sweep Spray mode to quickly clear away dishes and sink surfaces, with some even offering docking systems that make keeping it in place effortless when not in use.