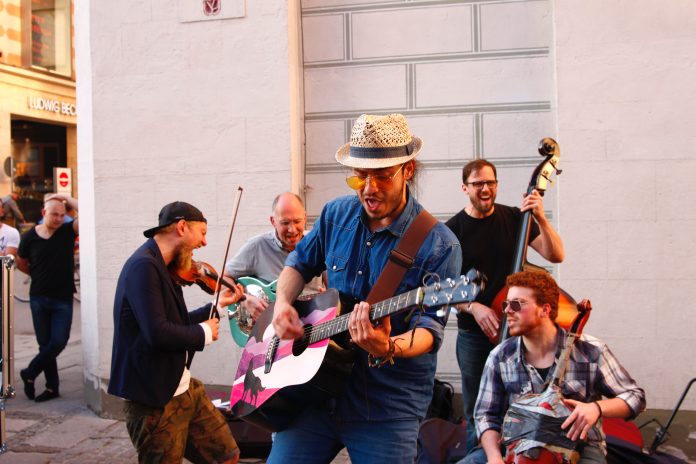 It is very nearly the season to be jolly, and with that comes all the extras such as the family get-togethers, the gift swapping, eating too much, and of course, the Make Christmas Hits.
Christmas has long been associated with music in many forms. Carol singers arriving at doorsteps on snowy nights, choirs in churches, and of course, Christmas songs on the radio.
When you are working out how to decorate your living room for your Christmas theme, you likely have some classic tunes playing, such as Jingle Bell Rock, or All I Want for Christmas, Is You.
However, it seems as if this is a dying tradition, or at least, there are fewer and fewer new additions to the library of Christmas songs. 
Does this imply that there are no new Christmas songs?
It isn't so much that no one is writing and recording Christmas tunes, that you may not be hearing them.
The way people listen to, and purchase, music has evolved dramatically over the last forty or so years. Cassette tapes vanished, CDs arrived and vinyl sales dropped, and digital formats arrived.
As the internet was finding its feet, many individuals started encoding popular songs and putting them on the internet. This led to numerous websites offering pirated material.
Eventually, the record companies caught on that they had to adapt, and downloading and streaming became legal, and with that, record shops vanished. 
How does this affect Christmas songs though?
There are now many great free music websites that can fulfill your soul, and fill your playlists. There are premium streaming services, and free ones, and also many online music stores such as the Apple Music Store. But, this has affected the charts, and how people listen to music.
In previous times, charts were made up from whatever singles were currently on release. Occasionally an old hit would resurface due to a record company reissuing it. Now though, charts in many countries are affected by digital sales, streaming, physical sales, and radio airplay audience impressions. This means that the top 10 could effectively be overtaken by just one or two artists. To demonstrate this, at the time of writing Taylor Swift held 26 spots on Billboard's Hot 100. 
So, there is no room for new Christmas songs then?
This is partly the problem. There have been many new Christmas songs released this century, from a varied group of artists too. The Killers, NSYNC, Destiny's Child, and Britney Spears, have all released hit Christmas songs.
The reason many people don't notice these new titles as much is because a lot of people prefer streaming platforms to radio stations. Another reason is nostalgia.
Old titles re-enter the charts around the festive period as radio stations play classic Christmas songs. Shopping malls and retail outlets play Mariah Carey, and Bing Crosby, evoking the holiday spirit, and inadvertently increasing music sales.
When you enter retail areas and see buskers at this time of the year, they will be playing nostalgic classics. A guitarist planning to busk will be learning Santa Claus is Coming to Town chords and lyrics, not Holiday by Little Nas.
It seems that nostalgia is heavily responsible for there being fewer new Christmas hits.
Why do classic Christmas songs keep dominating the charts?
The answer partly is in that sub-heading, they are classics. However, other things are going on here.
Christmas tunes are played through the house when children are young. No doubt most readers will remember decorating the Christmas tree with parents or siblings, and festive tunes being played. Maybe this music was from the radio, or perhaps it was on vinyl. Wherever, or however, you heard this music, it has stayed with you.
Music triggers memories and strong emotions. Listening to Christmas songs can be a way back to happy moments with loved ones who are no longer here. These songs get passed on to children, and then their children too.
Radio stations want to play the music that is enjoyed by their audiences. Therefore it is a simple choice to pick the holiday classics that are universally loved. In school choirs, children might be learning the piano chords to Walking in the Air, or singing Silent Night at assembly. 
Are there any other reasons that there seem to be no new Christmas hits?
As previously mentioned, there are indeed new Christmas songs. It is perhaps that there are no real hits or at least ones with the staying power of Mariah Carey's.
The British artist Cliff Richard has sold somewhere in the region of 250 million records worldwide. In the UK, his single sales are only beaten by Elvis Presley and the Beatles.
One thing that Cliff is known for, especially in the UK, is Christmas songs. For a period of time, it would be unheard of for him to not release a song for the holidays. So much so that you can buy a whole album with just his Christmas songs on.
However, things started to change with the record-buying public. 
What happened to a Christmas song being number one each year?
While there are fewer Christmas hits than before, and classic songs dominate the airwaves, something else has happened to the charts over the years.
Many artists don't release Christmas songs, and fair enough. The public has shown that it isn't necessary to have a themed song at Number One for Christmas Day as the UK showed in 2000.
The top three for Christmas Day in the UK for the year 2000, was Bob the Builder, Westlife, and Stan by Eminem. Not very festive at all, especially the latter.
Downloaded music has given people the chance to hijack the charts too. This has happened on at least one memorable occasion. In 2009, Killing in the Name of, by Rage Against the Machine, became the first download-only single to get to number one. On Christmas Day. 
What are the most inappropriate Christmas hits?
As an aside, you may be interested in what other songs have been on the charts at Christmas in the USA. Perhaps, fortunately, these songs didn't get to number one, or Christmas Day's airwaves might sound very different today.
The late Easy E decided that he had a Christmas hit in him, and so he penned a song that wouldn't impress Cliff Richard. Other festive releases have included Back Door Santa by Clarence Carter, and Affroman's I Wish You Would Roll a New Blunt. 
A look at the last ten years in the UK shows that there are very few Christmas-themed songs at number one. The last three years have been owned by novelty charity singles from LadBaby with titles such as I Love Sausage Rolls, and Don't Stop Me Eatin'.
Perhaps then it is no surprise that the biggest selling Christmas song according to the Guinness Book of Records is White Christmas. Those 50 million sales are highly unlikely to ever be beaten by any new Christmas songs. 
Summary
If you want to hear new Christmas hits then they are definitely out there. Spotify and YouTube are full of the latest festive releases just waiting to be streamed. However, whether they make it to the top of the charts this year, and reenter repeatedly in the future is another matter.
It seems that between nostalgia, digital purchases, and streaming, new Christmas hits may be something of a rarity. Until there is one, there isn't much to do except put Mariah Carey on play again.