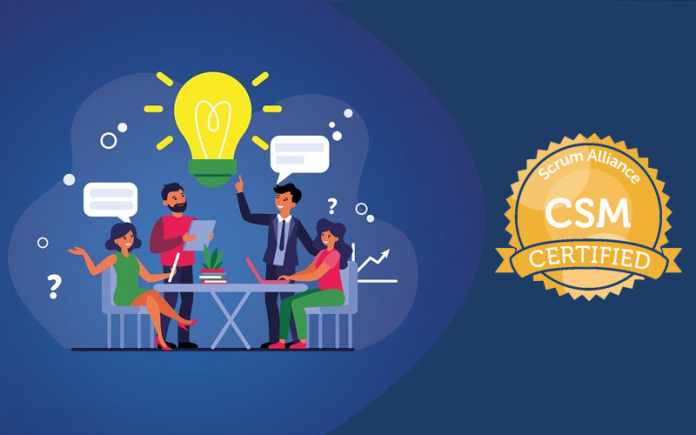 Scrum is an Agile framework that addresses complex adaptive problems. It is used for developing, delivering, and sustaining complex products. It gained life in software development but has now effectively spread to other fields like Information Technology, business, and research. It is so because it is not a process or technology, but rather a framework that can be applied to any processor technology through CSM Certification.
Scrum framework is meant for project management emphasizing teamwork and accountability to reach a well-defined goal. In recent years, Scrum has gained momentum in the world of business professionals as more and more companies look to adapt to it. Scrum Certified professionals are a part of the Scrum Alliance whose members work as project management professionals for companies. With an expected growth rate of a whopping 24% by 2026, the future of Scrum Masters has never been brighter.  
Benefits To Being Certified: CSM Certification
Since the Scrum framework is in fact a proper framework that needs to be learned to be brought to practice, the certification of the same becomes of immense importance. In other words, you need to be certified to be practicing the Scrum methodology. Getting a CSM certification comes with its own set of merits to a working professional's career. Today, most companies are looking to hire professionals that are familiar with the Scrum framework. 
This is because the Scrum Master is directly involved with product development – arguably the most important aspect of what a corporation does. The Scrum Master guides product development to the utmost efficiency and helps deliver quality products. As a Scrum Master is not the leader or even someone directly involved in the team's work, they become a Servant Leader, helping teams achieve their goals from the outside. They also engage in activities that eliminate disputes and promote cooperation.  
As a certified Scrum Master and a Servant Leader, you are in charge of bringing a positive change in the organization and influencing it for the better. You can create an environment where teams flourish and achieve goals to the best of their abilities. This is why corporations look to hire certified professionals: because of their ability to instill a change. Having a degree validating your skills and abilities will help you attract the right kind of offers from the industry, all while gaining the respect of your peers and current organization. 
Cost
People opt to get certified in the Scrum framework because of the lure it brings to their careers. What is great is that it takes only a 2-day course to do so. The immensely favorable duration of the course acts as a huge draw for professionals opting for it. The course costs around $1000-$1400, by the end of which you take the exam, get certified, and earn the membership to the Scrum Alliance. The membership has to be renewed every 2 years for the cost of $100. 
The cost can vary depending on which course from which institution you pick. There are a lot of platforms offering the course. Make sure you pick the one that is Certified. Although the course has no eligibility criteria, meaning even a complete novice can take it, it is advisable that you have at least the basic knowledge of the Scrum framework. The trainers are going to teach based on the understanding that you are familiar with the basics at least. 
If you don't know anything at all about Scrum, fret not, there is a 1-day foundation course that will help you brush up before you take the training. It is highly recommended for both freshers and professionals coming from unrelated, non-science backgrounds that they attend the foundation course before the training.  
The following is the curriculum of the Certification training to help you gauge whether you need the foundation course or not: 
Agile and Scrum Overview

The three roles in Scrum

Scrum Ceremonies

Scrum Artifacts

Sprint Execution

Daily Scrum and Sprint Retrospective

Definition of Done (DoD) and Acceptance Criteria

Definition of Ready

Release Planning

Sprint Burndown Chart

Release Burn-Up Chart

Product Planning

User Stories

Agile Estimation

Planning Poker
If you are familiar with the basics of these topics, you do not need the foundation course. 
How To Prepare For The Exam
The CSM certification is quite a rigorous one, as one needs to be well-versed with the concepts of Scrum to crack the exam. Whether you take a course, study on your own, or attend classes, the idea is to gain a deep understanding of the concepts such that you can apply them to real-life situations with ease. This is attained by starting the study process early so you get time to soak in the concepts. 
Here are a few books to help you get familiar with the Scrum concepts: 
Scrum Mega Pack: For the Agile Scrum Master, Product Owner, Stakeholder and Development Team Paul VII

Agile Coaching Rachel Davies

Agile Certification Study Guide: Practice Questions for the PMI-

Acp

Exam and the Scrum Master Certification PSM I Exam Dan Tousignant

Large-Scale Scrum: More withLeSS

Scrum Fundamentals forScrumAlliance(R) ScrumMaster (R) Certification: Pass the CSM Assessment in One Week Feroz Khan

 
Along with the books, there are assignments, mock tests, and practical questions that will help shape your concepts of Scrum and also help you assess your understanding of them. Mock tests in particular are great for creating the exam environment without the anxiety it produces. By taking mock tests periodically, you can identify your weak spots and work towards bettering yourself in due time. 
Online courses act as a quick way to get through the exams. They teach you the necessary topics, help you understand the concepts, and prepare you for the examination in relatively less time than self-study would. But it is up to you to make the most of it. A bit of self-study beforehand and certification from renowned institutes will not only improve your knowledge but will also help you in job opportunities.