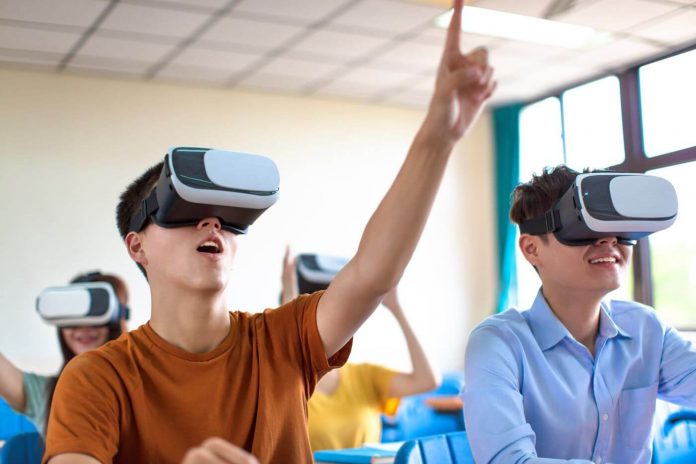 For several years, there has been major developments in the education sector. Schools, colleges and universities have embraced the use of new technology in the education sector. Teachers have adopted technology in the classroom through customized ways to enhance delivery of content. This has been done through the use of virtual reality technology in the educational sector. Virtual reality is the use of a computer generated program where individuals interact with various learning tools. In this blog, you will know How Virtual Reality Technology Is Changing the Way Students Learn.
The traditional education had its own limits and students could not understand the content easily.  Learning was done through lectures, reading and use of documentaries. There was too much reliance on listening and reading in the entire system. Reading was done in the classrooms thereafter the teacher could give an explanation on the content delivered. Reading in most cases was accompanied by group discussions, which was very difficult for students. Most of them could not sit in class and understand the entire content being delivered by their teacher or lecturer. Students did not have enough concentration and this was a major setback to the curriculum developers. They lacked focus and did not enjoy learning as they considered it to be boring.  
Virtual reality in the education sector
Virtual reality has impacted education in various ways since its inception. It has led to new learning experiences and through that education has improved massively. Virtual reality can be applied at all levels of education right from the introductory part to universities where research is done. Students who cannot travel abroad can find ways of learning through virtual reality technology. 
The main components in a virtual reality
Computer or smartphone.  As personal computer, laptop or smartphone is the major component that is used in a virtual reality setup.

Input devices. They make the virtual environment to be real. Input devices provide the users with a lively environment for interaction. Some of the input devices that are commonly used in virtual reality include tracking balls, track pads, motion trackers and joysticks.
Benefits of Impact of virtual reality on education
Virtual reality is an interactive process that allows learners to be engaged with various learning experiences. There are various ways through which virtual reality has impacted education and this include:
There is no more reliance on listening-based learning. Students can now enjoy learning through the technological tools that are used in virtual reality. Learning objectives can be attained easily through virtual reality.

There is a stronger correspondence among students when virtual reality is used in the classroom compared to reading based learning. In a research that was conducted by scholars, it revealed that students who used virtual reality recorded better results when examined compared to those who used the traditional means. 

The use of virtual reality technology in class increases the level of concentration among the learners. Students can follow up with attentiveness the entire lesion with positive responses.

Virtual reality promotes curiosity and creativity. The use of VA technology in the classroom is one way, which enables the students to have the real power of learning in their hands.  Students can make decisions through the created environment and this enhances creativity. It also helps when it comes to

Pro-Papers

writing.

It makes learning to be memorable. Students can easily remember the content they have acquired through the interaction with VA tools. It helps in preparation of students for future tasks by enhancing the use of life skills.  Students can experience and participate in the entire process.
Disadvantages of using virtual reality in education
The equipment is very expensive and so acquiring one is a challenge.

Virtual reality may lead to social problems that may occur, as students perceive VA to be the real world. This may affect the learner negatively.

The quality of videos presented are not to the standard. Most of the hardware does not support video formats used in VA.

Most of these tools have lower resolution content and may take time to download.
Final Word
The traditional form of education had a lot of weaknesses and students could not get the intended content within a specified period of time. Students learnt through a lot of reading- based modes which were time consuming and inefficient. The use of virtual reality in the modern world has made learning one of the best experiences to any student. It is therefore important for the education stakeholders to maintain balance between the two mediums. Teachers should not dump the traditional mediums completely but rather integrate them with the new system where virtual reality is used in the classroom. This will eventually lead to a more productive form of education.  The use of virtual reality will boost the level of students' engagement and facilitate the delivery of content.